We're Getting Mutants in the MCU - The Loop
Play Sound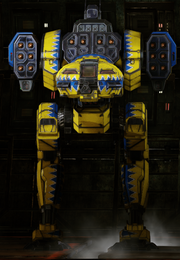 The Origins IIC collection was a special sale of bundles, featuring new 'Origins' variants of the Jenner IIC, Hunchback IIC, Orion-IIC, and Highlander IIC BattleMechs. The sale started June 29, 2015. All 'Mechs, badges, and cockpit items were delivered by December 15, 2015.
These are Clan BattleMechs with Clan pilots. As such, they can only be used by Clan factions in Community Warfare battles. These "IIC" BattleMechs were redesigned from the ground up by Clan engineers. They feature a frame designed using Clan manufacturing techniques, utilize Clan weapons, equipment, and fusion reactors, and have access to Clan Ferro-Fibrous armor and Endo-Steel. However, they are not OmniMechs, and thus they cannot swap OmniPods. On the plus side, they have Inner Sphere flexibility. They can swap engines, add or remove Ferro-Fibrous and Endo-Steel, and they don't have fixed equipment.

These are the tiers of bundles that were available for purchase:
The Exclusive Origins BattleMechs: Jenner-IIC JR7-IIC, Hunchback IIC HBK-IIC, Orion-IIC ON1-IIC, and Highlander IIC HGN-IIC have the following built-in bonuses:

Exclusive Camo/Skin
30% C-Bill boost
Exclusive Origins variants cannot be sold

Each 'Mech was delivered with its own Mech Bay
Each Faction Pack included:

A Faction-themed cockpit Double Helix (Hanging Item)
A Faction-themed cockpit Strana-Mechty Holo Globe (Standing Item)
A Faction-themed cockpit Hexagon Clan War Horn (Mounted Item)
Faction-themed colors (3)
Faction Camo/Skin

Players could also choose to purchase using the a la carte option. Unfortunately this method does not provide any premium time or Faction Packs.
Faction Packs
[
]
The camouflage styles that come with Faction Packs are separate from the camouflage style applied to the collection's exclusive C-Bill boosted variants. Faction Pack camouflage styles are unlocked for all of the variants released with the collection. Each faction has its own pack, containing a distinct camouflage style representing that faction.
Purchasers of the top tier will have the option of selecting all of the Faction Packs, and therefore unlock all of the available colors and camouflage styles. Purchasers of lower tiers will need to choose which Faction Packages they want.
There is no way to purchase additional Faction Packs beyond what comes with the collection, but the items contained within can be purchased separately using

 . However, it's worth noting that a Faction Pack will unlock a faction's camouflage style for all of the 'Mechs in the collection, while unlocking it using

  only unlocks it for one.
Players can see examples of each of the faction skins on the official Origins page under the Faction Content section, and clicking on each of the four Clans.
Lore
[
]
The IIC designation is given to originally Inner Sphere designs that have been redesigned by Clan engineers. While upgrades to replace the weapons on an existing Inner Sphere 'Mech chassis with Clan weaponry are relatively common, a IIC BattleMech is built from the ground up on a new Clan-designed chassis with a Clan fusion engine. However, IIC designs are not OmniMechs. Therefore the Clans consider them inferior (particularly in terms of logistics), but build them to perform secondary roles and bolster their forces.
The end result is something that looks similar to the original Inner Sphere design, but has more free tonnage to work with and more free slots, in addition to being able to use Clan weaponry and equipment.
References
[
]