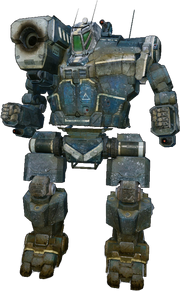 Founders supported MWO in an early state (closed Beta) and purchased a Founders Package. The Founders program was also known as Operation: Inception, which ran from June, 19th to August, 7th 2012.
The Founders variants featured a unique skin, with a more weathered and worn appearance than the default skin on a standard variant. They came set to a blue color by default. They included a 25% C-Bill bonus. In September of 2014, it was announced that as a part of the game's 1st year anniversary, the C-Bill bonus would be increased to 30% to match the bonus provided by other 'Mech pre-order packages.
Founder Package

Veteran

Elite

Legendary

Founders Tag

Instant access to Beta

1 Month Premium Time

10,000 MC

Choice of 1
Founders BattleMech
All four
Founder BattleMechs

Name in the Credits
Founder BattleMech

Jenner JR7-D

Hunchback HBK-4G

Catapult CPLT-C1

Atlas AS7-D

Unique skin and lifetime 30% C-Bill bonus.

(This is all that makes them different from the models now available.)
To look up Founders: mwomercs member list
click the "More Search Options" button.
Bottom of the new page is a box called "show all". Its right above the "Apply filters" button. Select what your looking for here.